When we talk about the holy months and the blessings that come with them, one month that comes to our mind abruptly is the holy and blessed month of Ramadan. Jeddah Ramadan timings are out and easy way to figure out how you want to set your routine in the month of Ramadan. The sooner you get your hands on the Jeddah Ramadan Calendar 2019 the better as you will be able to see on which day the Ramadan month begins along with accurate tings for Seher and Iftar. There are often situations even during or even towards the end of the month of Ramadan that you feel you are missing out on the accuracy and timings of fasting. This is why one should always try and keep a Ramadan calendar Jeddah handy especially if you are a resident of this city.
Speaking of how Ramadan is celebrated in the beautiful and advanced city of Jeddah, we can clearly say that Ramadan is rather cherished here than being observed. There is the visible wave of happiness that you feel amongst the local people of Jeddah even when there is almost a month left for the month of Ramadan to begin. People start talking to each other about how they will be fasting, how they will try to be better Muslims from now starting from the Month of Ramadan and even mundane issues like what to eat in Sehar and Iftar are also discussed amongst the Muslim brothers and sisters. Jeddah Ramadan Kareem calendar is of various types and some printed ones even come with ads regarding what will be happening in the city around that time so you can obviously keep one of that Jeddah Ramadan Calendar at home too.
When the beautiful month of blessings called Ramadan is about to begin, the locals start setting the streets up with posters regarding Ramadan Kareem. They make sure that big buildings and other famous areas are well lit up with beautiful fairy lights and other various kinds of light effects. This gives a very festive feel to the city but all of this is only possible if you are well aware of what the Jeddah Ramadan Kareem timings entail. This is prime to get hold of a good and accurate Jeddah Ramadan Calendar so that if you want to take part in decorating the streets and even your own neighborhood to mark the arrival of Ramadan, you can think of good ideas well before time.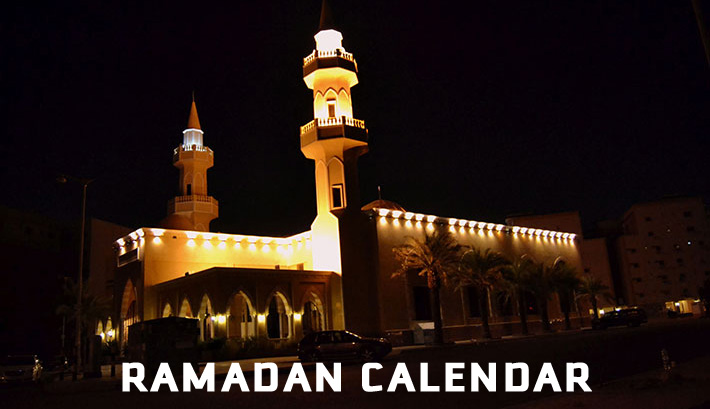 These things definitely lift up your spirits and get you all set for one of the toughest yet most beautiful ways of worship that are through fasting. Those who fast in the month of Ramadan are surely going to be rewarded by Allah in this life and the hereafter too so make sure you are all set for this year's Ramadan Kareem and get a handy Jeddah Ramadan Calendar hung up in perhaps your house. This way not only you but others in the house will also keep thinking about how they will set their routine in the upcoming month of Ramadan.
Jeddah, Saudi Arabia Ramadan Fasting Calendar starting and ending date: 5th May 2019 till 4th June 2019.
Jeddah Ramadan Calendar 2019 (Sehr-o-Iftar)

Note: For safety add 5 minutes after the start time and subtract 5 minutes from ending time for Sehri and all prayer times; add only 2 minutes after start time for Maghrib & Iftar.